Spinal Decompression in Wallingford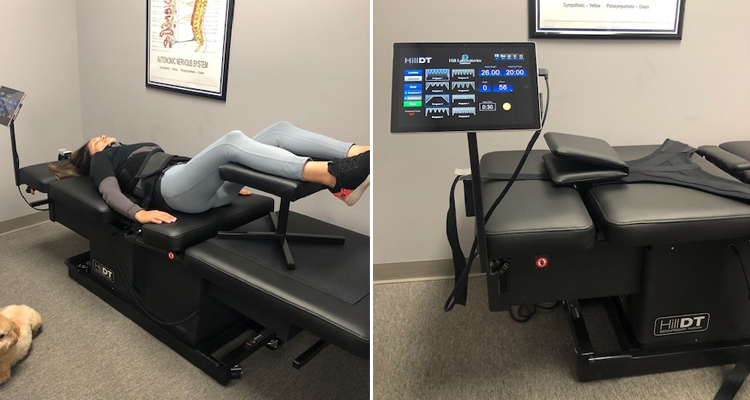 Chronic neck and back pain changes your life. But there's hope for lasting relief with Non-Surgical Spinal Decompression.
---
Five Reasons to Consider Non-Surgical Spinal Decompression
Bulging or herniated discs
Degenerative disc disease
Facet syndrome
Failed back surgery
Ongoing lower back or neck pain that is not responding to traditional spinal treatment by a M.D., D.O., D.C. or P.T.
---
What is Spinal Decompression?
Non-Surgical Spinal Decompression is a non-invasive treatment for patients who suffer from neck and back problems. A decompression treatment slowly and gently lengthens or releases pressure in the spine through repetitive movements by a customized medical device. The table pulls and releases, creating a pressure change within the invertebral disc, surrounding soft tissue, and joints. This pressure change allows the disc bulges or herniations and nutrients to be pulled back into the disc. Rehydration of the disc and surrounding tissues creates a physiological change which assists the body's natural healing process.
---
How long will my results last?
Each patient is unique and results vary. However, research suggests that continued improvement is seen up to four years following the decompression treatment program.
---
The HillDT Difference
The Hill DT table is unique in comparison to other treatment tables. But it's more than a table, it's a comprehensive program. The sensors in the table continually monitor the patients to ensure proper treatment is delivered. Nutrients and oxygen-rich blood are drawn back into the disc. Since these areas of the spine receive low circulation, this is a critical component of decompression.
OFFICE HOURS
---
Monday
9:00am - 12:00pm
3:00pm - 6:00pm
---
Tuesday
11:00am - 6:00pm
---
Wednesday
9:00am - 12:00pm
3:00pm - 6:00pm
---
Thursday
9:00am - 12:00pm
3:00pm-6:00pm
---
Friday
CLOSED
---
Saturday
CLOSED
Precision Chiropractic & Nutrition Center
857 North Main Street Ext
Wallingford, CT 06492
(203) 284-9200